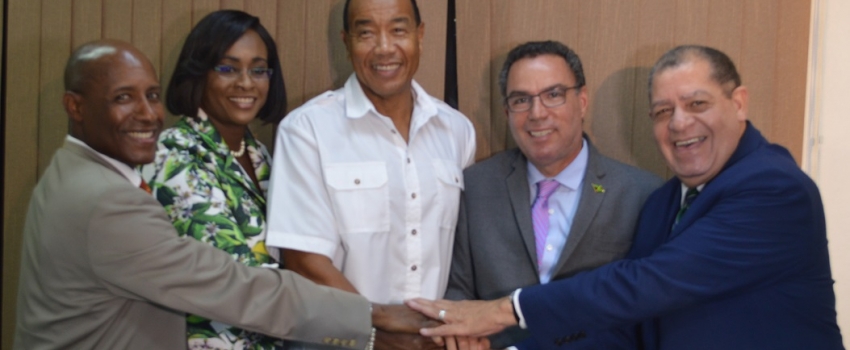 Minister of Industry, Commerce, Agriculture and Fisheries, Hon. Audley Shaw (right), along with (from left) Executive Director, Economic Growth Council, Senator Aubyn Hill; Member of Parliament for East Rural St. Andrew, Mrs. Juliet Holness; Owner, Wallenford Coffee Company Limited, Michael Lee-Chin; and Minister without Portfolio in the Ministry of Economic Growth and Job Creation, Hon. Daryl Vaz, at a press conference to update the country on Jamaica's coffee industry at the Ministry's New Kingston offices on Monday, September 10, 2018.
Philanthropist Michael Lee-Chin has announced a gift of $60 million to Jamaican Blue Mountain coffee farmers to assist with alleviating the current crisis in the sector.
Lee-Chin made the announcement at a media briefing held at the Ministry of Industry, Commerce, Agriculture and Fisheries' (MICAF) New Kingston offices today, September 10, 2018.
The donation, which is a personal gift from the Lee-Chin family, is in response to a special appeal from Member of Parliament, East Rural St. Andrew, Juliet Holness, and will constitute a temporary solution to the plight of the 7,000 coffee farmers who are now experiencing low prices and difficulties in selling their crops.
According to Mrs. Holness, the $60 million has already been wired to the Rural Agricultural Development Authority (RADA), which will handle the distribution to farmers.
For his part, speaking to the state of the industry, Mr. Lee-Chin said it was unbelievable that the industry is now in such a crisis, especially given the prestige brand association of Jamaican coffee.
He, however, noted the opportunity that the current situation presents to reset the strategy for the industry.
Minister of Industry, Commerce, Agriculture and Fisheries, Hon. Audley Shaw, in welcoming the gift, bemoaned the decline in the industry over the last 25 years.
Minister Shaw said while government's intervention in the industry has to be viewed in the context of the current privatization, its responsibility for facilitation and promotion of the coffee industry continues.
"We cannot, therefore, intervene in the commercial affairs between farmers, processors and exporters," Shaw said.
He added that the Government also has a regulatory role to ensure the integrity of the product, which it will continue to do.
The Minister further announced that he has asked the Economic Growth Council, under the leadership of Senator Aubyn Hill, to review and recalibrate the industry to make it a growth industry for the welfare of the coffee farmers.
RADA is to coordinate the activities of the technical working group.
This, along with other initiatives such as scouting for better prices, will form part of the strategy to recalibrate the coffee industry.
-30-