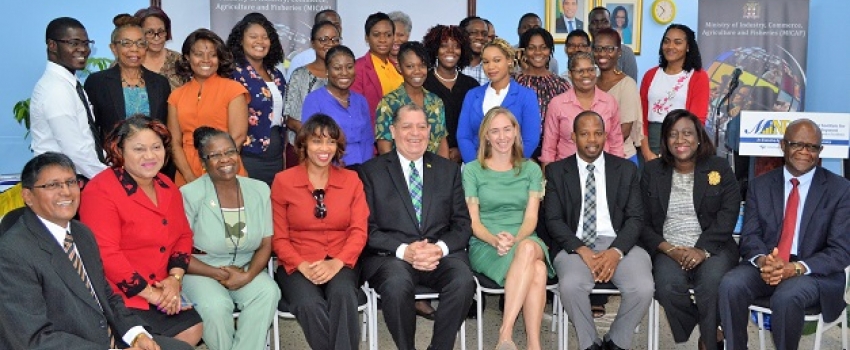 The Strategic Public Sector Transformation Project of the Ministry of Finance and Planning in collaboration with the Ministry of Industry of Industry, Commerce, Agriculture and Fisheries' ISO Division, today (June 18), launched a training programme for ISO Quality Systems Implementation Technicians (Q-SITS/Junior Consultants).
Twenty-five persons have been selected as junior consultants for the training programme and, will go through two weeks of intensive training after which they will be placed in agencies across Government.
The World Bank, through the Strategic Public Sector Transformation Project of the Ministry of Finance and the Public Service, has provided funding to support the implementation of ISO 9001 Quality Management Systems in several government agencies.
Speaking at the launch on June 18 at the Management Institute for National Development (MIND), Old Hope Road, Industry, Commerce, Agriculture and Fisheries Minister, Hon Audley Shaw, said that the launch of the training programme is a significant step forward for transformation in the Jamaican public sector.
"Indeed, the implementation of ISO 9001 represents true transformation in any organization and I will be championing this throughout all government entities. This is the direction the Government is moving towards in order to make Jamaica the place of choice to live, work, raise families and do business", Minister Shaw said.
Minister Shaw continued that the Government is committed to the strengthening of Jamaica's National Quality Infrastructure. He informed that one demonstration of this has been the revision of the country's Quality Policy in 2017, which affirms the commitment to the standardization on the ISO 9001 Quality Management System.
The Minister further added that standards play a key role in improving production efficiency, providing guidance and tools for companies and organizations that want to ensure that their products and services consistently meet the requirements of their customers on a consistent basis.
The participants were charged by Minister Shaw to be the agents of change and true agents of transformation as they go through the training and placements in the various government entities.
The training will be conducted by the Bureau of Standards Jamaica ISO consultants, commencing on June 18 at MIND and at the BSJ for the rest of the week. The second week will be at the Ministry of Industry, Commerce, Agriculture and Fisheries, 4 St. Lucia Avenue.
-30-