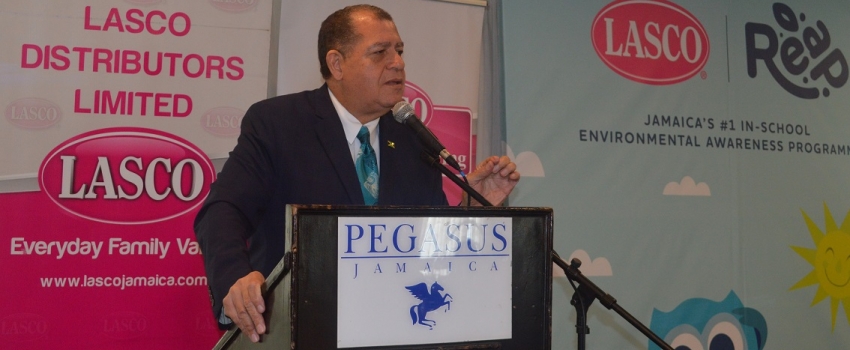 Minister of Industry, Commerce, Agriculture and Fisheries, Hon. Audley Shaw, speaking at the 6th Annual LASCO Releaf Environmental Awareness Programme (REAP) Awards Ceremony and Luncheon, held at the Jamaica Pegasus hotel, New Kingston, on Thursday, June 7, 2018. LASCO REAP involves primary, preparatory and junior high school students in initiatives such as tree planting and recycling, energy conservation and well-kept school and community environs.
Industry, Commerce, Agriculture and Fisheries Minister, Hon. Audley Shaw, is reiterating the need for the preservation of our environment, stating that with the explosion of plastics not only in Jamaica but around the world our oceans and environments are being threatened daily.
He noted that it is the responsibility of every Jamaican to become responsible citizens and, make every effort to preserve what we have in our beautiful country.
Minister Shaw was speaking at the 6th annual Releaf Environmental Programme (REAP) awards ceremony and luncheon held at the Jamaica Pegasus hotel on Thursday, June 7, 2018, for the 20 schools that emerged finalists in the REAP programme.
"It is so important that REAP succeeds. I must commend Lascelles and the LASCO family on the tremendous work you are doing. I want to see this REAP initiative grow bigger and better. I want to see it become part of a lobby. A lobby for us in Jamaica to improve our practices when it comes to the use of products and the use of plastics. We have seen the runaway use of plastic containers, which is destroying our environment daily", the Minister said.
The Minister informed that in a number of countries, as a matter of law, their garbage has to be separated. He continued that they have to separate plastic from other potential reuseable garbage.
"We have not been doing this yet. I am certainly going to be proposing to the Government that we have to establish a law like other developed countries to begin to separate our garbage. Make it mandatory that you have two garbage bags, one for solid waste and the other for plastics so that we can dispose them in such a way that those that are recyclable can be recycled here. We can create an industry right here. We don't have to send them abroad to be recycled. Whatever technology is used in the United States, China or anywhere else in the world can be adopted right here in Jamaica," Minister Shaw added.
Meanwhile, chairman and founder of the LASCO Affiliated Companies, Hon. Lascelles Chin, was very sentimental about the REAP programme.
"REAP is very dear to my heart. This programme is definitely playing a vital role in developing environmentally responsible habits in our young people. Habits every citizen of Jamaica and the world should practice. We must each play our part, no matter how small; and stop waiting on the Government and international legislations to fix the problem," implored the chairman.
During the last six years, LASCO REAP has engaged over 500 schools in their quest to preserve and protect Jamaica's environment. The competition also encourages over 200 schools to begin gardening projects.
First place was awarded to Newstead Primary in St. Mary for their outstanding efforts to effect positive change in the surrounding environs. They received 10 computers for their school and the LASCO iCool Award of $100,000 for the most plastic bottles collected. They collected 132,083 PET bottles.
Second place went to Bath Primary and Junior School based in St Thomas, while Fort George Primary from St. Ann copped third place. Bath Primary received a smart television and DVD player and Fort George received a projector and screen. Fort George also won the JMMB Joan Duncan Foundation Award of $100,000 for the most trees planted. They planted 3,001 trees. Highgate Primary won the Walkerswood prize for best national garden, earning them $50,000 and a 650-gallon water tank courtesy of Rototech.
The LASCO REAP competition, established in 2012, engages schools to increase participation in sustainable environmental practices, including tree planting, recycling, energy conservation and well-kept school and community environs.
-30-