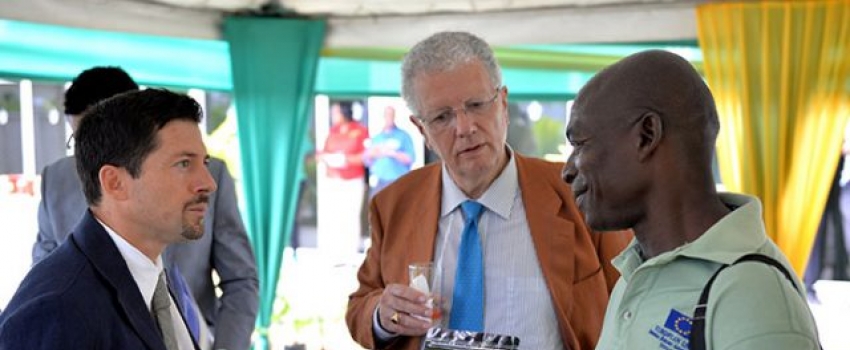 The Ministry of Industry, Commerce, Agriculture and Fisheries will be working to ensure that the local banana industry returns to more prosperous days.
Chief Technical Director (CTD) in charge of Agriculture and Fisheries, Dermon Spence, says the Ministry will be collaborating with the Banana Board to achieve this objective.
According to Mr. Spence, "the successful expansion of the banana industry will be a win-win accomplishment not just for our small farmers, but for bigger investors and exporters and indeed for the economy of Jamaica".
Mr. Spence was speaking at an event to present the findings of the food consultancy specialist Mazie Miller on the Honduran Agricultural Research Foundation (FHIA) banana and plantain varieties.
It was held at the Mona Visitors' Lodge and Conference Centre at the University of the West Indies on June 22. Mr. Spence indicated that Jamaica has only a small slice of the banana industry worldwide and this needs to change.
He noted that there is a huge demand for Jamaican bananas locally and in the export market as well, and that production must increase in order to satisfy this huge unmet demand.
Mr. Spence noted that the introduction of the FHIA varieties of plantain and bananas is a step in the "right direction".
"The new banana varieties are more suitable for cooking and processing. It takes no more than five minutes to cook when boiled and it remains soft even at below room temperature," he pointed out.
He also noted that post-harvest studies in chips production in Honduras, for which the varieties were developed, as well as a preliminary market study in Jamaica, show that the new varieties are more appealing.
The banana varieties, FHIA 17, 25 and 20 and the FHIA 20 plantain introduced to Jamaica since 2001, are highly tolerant to the Black Sigatoka disease.
Meanwhile, Food Consultant, Mazie Miller, presenting on the findings of the FHIA varieties, recommended that an educational programme be introduced into the schools among students of Home Economics.
She also recommended that the Banana Board increase the production of FHIA varieties in parishes where farmers have ready access to markets and that the Board consider providing peeled green bananas to commercial food operators.
Meanwhile, Deputy Chairman of The Banana Board, Dr. Wayne Myrie, noted that banana continues to remain relevant to Jamaica's economy and the FHIA varieties are a game changer, "as we seek to improve the livelihood of the farming community".
For his part, Project Manager representing the European Union (EU) Delegation, Stefano Celli, said the EU is happy to be partnering with Jamaica on the FHIA varieties.
=30=
JIS