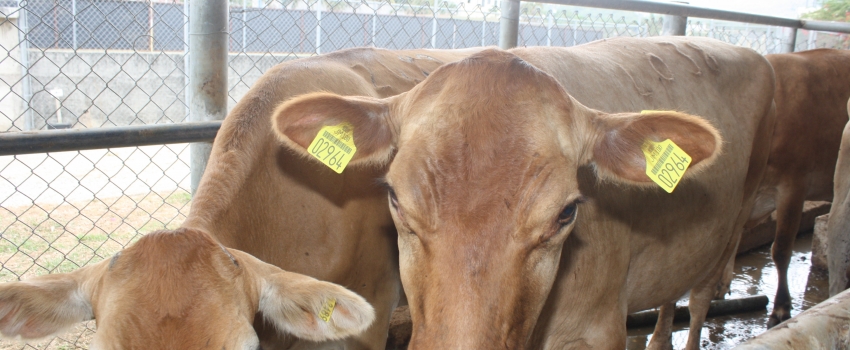 As part of its continuing implementation of the National Animal Identification and Traceability System (NAITS), the Ministry of Industry, Commerce, Agriculture and Fisheries (MICAF) has intensified its national appeal to cattle farmers to ensure that their bovine animals are tagged.
The 'Tag It and Trace It' media campaign, launched this month, is the latest in a series of activities aimed at getting stakeholders to continue to support its implementation of the animal tagging programme which was made possible by the enactment of the Animals (Diseases and Importation) (Marking of Bovine Animals) Regulations, 2015.
The system makes it a legal requirement for all farms and establishments owning cattle to be registered and for the cattle to be affixed with NAITS ear tags and issued with cattle passports. The identification and registration system incorporates information on the animal's identity, ownership, geographical location and movement activity. All information gathered will be stored electronically under the control of the Veterinary Service Division.
To date, over US$550,000 has been spent under the Inter-American Development Bank-funded programme through the Agricultural Competitiveness Programme and more than 12,000 heads of cattle identified islandwide, particularly in the parishes of St. Ann, St. Catherine, St. James and St. Mary, Clarendon, St Thomas, Portland, Trelawny, Manchester, Hanover and St Elizabeth
Full implementation of the NAITS is foreseen in another two to three years and is expected to result in full traceability of the bovine meat or animal that legally enters the food chain.
This will facilitate the Ministry's disease surveillance and monitoring programmes thus enhancing food safety. In addition it will prepare farmers for the export market, whilst garnering local trust in their products for wholesomeness and safety and contributing to reducing larceny of livestock.
Contact:
Director, Communication & Public Relations
Ministry of Industry, Commerce, Agriculture and Fisheries
Hope Gardens, Kingston 6
T – 927-1731-50 / 618-7128; E: pr2@micaf.gov.jm; daoconnor@micaf.gov.jm
Facebook – https.www.facebook.com\agriministryja
Twitter – https.www.twitter.com\agriministryja