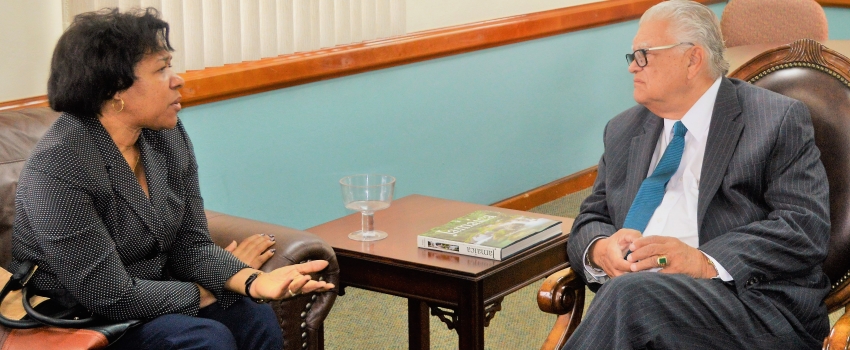 With the appointment of a new ambassador to Jamaica, Minister of Industry, Commerce, Agriculture and Fisheries, Hon. Karl Samuda is pledging continued support to the Government and people of Cuba.
Speaking during a courtesy call at his New Kingston offices on January 03, 2018, Minister Samuda welcomed the newly appointed Cuban ambassador-designate to Jamaica, Her Excellency Inés Fores Fernández. He informed the ambassador that Jamaica and Cuba have always had a very good relationship. He also reiterated the call for both countries to continue the work in removing trade barriers in all forms, as well as opening up channels through which to advance trade.
"What we want to do is to increase and promote trade and business between Jamaica and Cuba and the strengthening of the bilateral partnership between the two countries going forward", said Minister Samuda.
Both the minister and the ambassador-designate expressed hope for increased bilateral cooperation between the countries during the ambassador's tenure.
The ambassador expressed her love for Jamaica and the warmth and love of the Jamaican people and said that she was confident that the good relationship which Jamaica and Cuba share will continue.
Fernández, who served most recently as Ambassador to The Gambia, thanked Jamaica for its support of Cuba throughout the years, making specific note of the annual UN Resolution, which calls for the US lifting of the economic, commercial and financial embargo on Cuba.
=30=