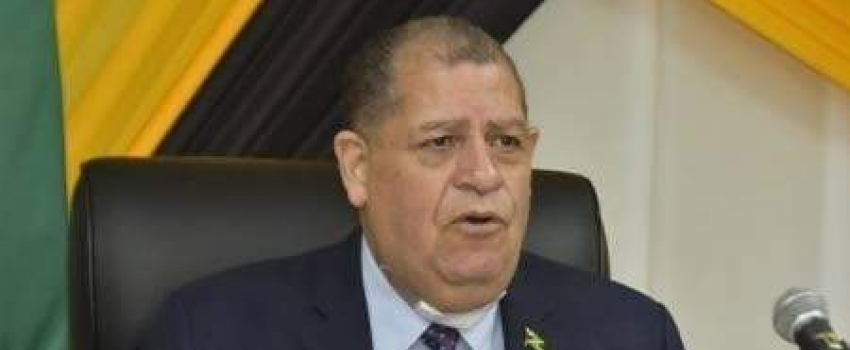 Minister of Industry, Commerce, Agriculture and Fisheries Audley Shaw speaking during the virtual launch of the Bureau of Standards Jamaica's Client Services Programme last Wednesday, October 20, 2021. (Photo: JIS)
In a bid to enhance the productivity and international competitiveness of micro, small and medium-sized enterprises (MSMEs), the Bureau of Standards Jamaica (BSJ) recently launched the Client Services Programme (CSP).
According to the BSJ, the programme forms part of its mandate to facilitate business development and trade. As such the public body will provide guidance to increase their capacity to produce consistent high-quality products and services; therefore, allowing them access to markets and deepen their reach in old markets.
"The Client Services Programme seeks to hand-hold and guide our MSMEs to understand, interpret and implement standards to grow their businesses. In alignment with our mission to support MSMEs, this guidance is free to all MSMEs," the public body outlined further.
During the launch of the CSP, Executive Director Dr Velton Gooden underscored that the programme allows the BSJ to refocus on its commitment to "satisfying our customers and other stakeholders by ensuring that our services are value-added and are easily accessed by those who need them". He added that the CS will be integral to send the message to MSMEs that standards are critical to their business operations, bottom line, commercial and brand success.
"Our commitment to customer satisfaction is demonstrated each time we help a client who manages a cottage industry operation navigate the often intimidating verbiage of the standards and every time that we come to a recognition of the importance of testing the production, ensuring that their equipment is properly calibrated or works painstakingly to perfect a label prior to submission," Dr Gooden stated.
Already, over 70 entrepreneurs and businesses have benefited from the Client Services Programme since the BSJ began operationalising it.
One such firm is Isabella Family Farm, whose compliance manager, Mario Kepple, gave a testimonial during the virtual launch on Thursday. The company manufactures value-added products including breadfruit slices, sweet plantains, tostones, dasheen and yams and exports to the USA, UK and Canada.
Source: JIS