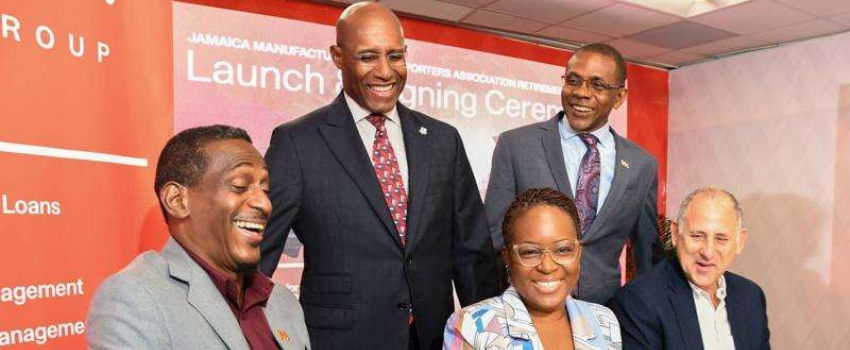 Kamesha Blake, executive director of Jamaica Manufacturers and Exporters Association (JMEA); John Mahfood (seated right), president of the JMEA; (standing, from left) Senator Aubyn Hill, minister of industry, investment and commerce; and Courtney Campbell, president and CEO, VM Group, watch as Conroy Rose, ,CEO, VM Pensions Management Ltd, signs the memorandum of understanding establishing the JMEA Retirement Account. (Photo: Garfield Robinson)
RESEARCH carried out by the International Labour Organization (ILO) Regional Office for Latin America and the Caribbean, which was released last month, has found that more than a third of retirees are either unpensioned or do not have an income to sustain them.
Coming out of the study, "The ILO has warned that old age-related social protection coverage is deteriorating, leaving 34.5 per cent of people over 65 without any labour-related income or pension, a situation of vulnerability and economic security that has been made worse by the COVID-19 crisis. In 2019, just ahead of the pandemic, 31.9 per cent of retirees had no income or pension."
Following its analysis of security trends in the region, especially pension systems and the economic security of older people that came under pressure during the pandemic, the ILO found that the performance of social protection initiatives and the challenges they faced are related to three objectives: coverage, adequacy and sustainability. Moreover, the organisation notes that while pension systems ensure continuity of income, the benefits derived depend on factors such as age, tenure of pension contribution and whether the individual has worked in the formal sector.
At the height of the pandemic, the percentage of people in the workforce making a contributory pensions fell by 0.4 percentage points down from 47.4 per cent in 2019 to 47.0 per cent. According to the ILO, the decline in 2020 reflects a "seven-year setback".
"The pandemic made visible the importance of social protection systems, understood as the set of policies and programmes that guarantee comprehensive coverage against different social risks throughout the life cycle," the study, titled Overview of Social Protection in Latin America and the Caribbean outlined.
"Social protection is essential to promote social inclusion and cohesion and reduce poverty and social disparities, especially in the context of a crisis that hit the most vulnerable sectors hardest."
"Given the lack of resources, such as savings or other private sources, and the decrease in the ability to generate labour income at advanced ages, it can lead to poverty in old age," it added.
As a result countries in the region increased their expenditure as they sought to boost social protection systems and took on more debt to do so. Here in the Caribbean sub-region new debt averaged 15.9 per cent of gross domestic product.
While the Caribbean has introduced non-contributory programmes aimed at reducing old age poverty, social expenditure accounts for between 7.6 per cent and 13.7 per cent of GDP, the study indicated. Moreover, according to the Economic Commission for Latin America and the Caribbean, in seven countries in the Caribbean less than 50 per cent of the population of legal retirement age has a contributory or non-contributory pension.
Although the study does not reference Jamaica in particular, it brings into focus that approximately 80 per cent of the working population does not have contribute to an approved pension or retirement scheme — majority of whom are in the public sector or employed to micro, small and medium-sized entities (MSMEs).
According to the Pension Industry Association of Jamaica (PIAJ), there are registered and approved retirement schemes operated by financial institutions. This, therefore, does not include company-administered pension schemes such as the JPS Employees Superannuation Scheme and ATL Group Pension Fund.
By law, Jamaicans can contribute up to 15 per cent of their incomes to a regulated pension or retirement scheme. Still, just between 12 and 20 per cent of working-age Jamaicans make contributions, in addition to paying towards the Government's pension fund, the National Insurance Scheme.
In the last year, VM Pensions Management Limited have attempted to increase the number of pension contributors after signing a memorandum of understanding (MOU) with the Jamaica Manufacturers and Exporters Association (JMEA) aimed at having employees of member companies sign up for a the JMEA Retirement Account. The product started at a value of $1,000 and allowed employees and their families to access VM Group's "Bundled Benefits".
During the signing ceremony held on September 6, 2022, Minister of Industry, Investment and Commerce Senator Aubyn Hill charged VM Pensions to close the gap between pension contributors and non-contributors, pointing out that "your 88 per cent of the population is a market". He added that by 2030 one in six individuals would have attained the age of retirement.
This was not, however, lost on Conroy Rose, CEO of VM Pensions Management Limited, who warned of a "pandemic of poverty".
He subsequently told Jamaica Observer that the company has taken a targeted approach in going after the unpensioned. In fact, just months earlier, in February 2022, the pensions administrator had signed an MOU with the Transport Operators Development Sustainable Services to provide services to taxi operators.
"We are also working with bar owners across Jamaica. So we're going after other sectors," he revealed.
By using a targeted approach towards and having discussions with sectoral associations, Rose noted that VM Pensions would get better buy-in and greater penetration. To this end, he shared that the next sector would be farmers and fishermen.
"We've already started the discussions about the agricultural sector," he informed Sunday Finance, though not indicating a specific timeline for launching fund.
Additionally, the pension management arm of the VM Group has its sights set on enrolling public sector employees, especially with the PIAJ recommending mandatory pensions, according to Rose. He believes that of the Government supports this position, the company will have a foot in to onboard employees from the public sector.
Asked about a fail-safe should the Government opt for another approach, the VM Pensions CEO said the company will continue driving public education.
"The key is once you empower people with information then they are in a better place to make decisions…there are a lot of myths around pension and that is what we're working to debunk and that's what we're driving through the associations," Rose disclosed.
"We're going to do lots of financial seminars and that will put people in a better position to make decisions through their associations," he continued.
Notwithstanding, introducing sector-wide retirement scheme is not unique to VM Pensions since Sagicor Investments had partnered with the Ministry of Tourism in 2020 to introduce the Tourism Workers Pension Scheme.
President of the JMEA John Mahfood has admitted the same. But he also noted the challenges faced by the productive sector to provide employees with a pension benefit.
Like Mahfood, president of the MSME Alliance Donavan Wignal argued that pension is an expensive line item for companies, especially small ones. In response to a question from the Observer how his organisation plans to address the pension gap, he said, "Whatever is being proposed now [for] a lot of companies is outside the reach of small businesses."
Going further, he pointed that even providing health insurance and/or life insurance was a financial challenge for most MSMEs.
His counterpart in the Young Entrepreneurs Association of Jamaica (YEA), however, believes that collaboration and education are two factors that could drive take-up of pensions among small businesses.
"We have to find ways to collaborate on affording our members to access pension solutions. So that is something that we are doing from our association," YEA President Cordel Williams Graham shared.
"It will take some mindset change, which we are open to addressing and ensuring that persons understand the importance of planning for the future," she continued, adding that collaboration will only redound to the associations having a "better bargaining power".
In the meantime, the PIAJ continues to champion "automatic enrolment" of working Jamaicans into a privately managed pension scheme but which would not require the contribution of employers.
"The inadequacy of both private and public schemes to reach our most vulnerable highlights the retirement security crisis facing Jamaica. Seventeen years after the implementation of a regulatory framework for private sector pension plans in Jamaica, the private market alone has not been able to solve the dire problem of low coverage which has hovered between approximately nine and 11 per cent, under the second pillar of privately managed pensions," the association explained in Increasing Pension Coverage in Jamaica, published January 2022.
"A national auto enrolment programme aligns with the Government's National Financial Inclusion Strategy (NFIS) to create conditions in which Jamaicans, particularly those who are underserved by the domestic financial system, can save safely and build up resilience against financial shocks," it stated further.
https://www.jamaicaobserver.com/business/closing-the-pension-gap/
Source: Jamaica Observer