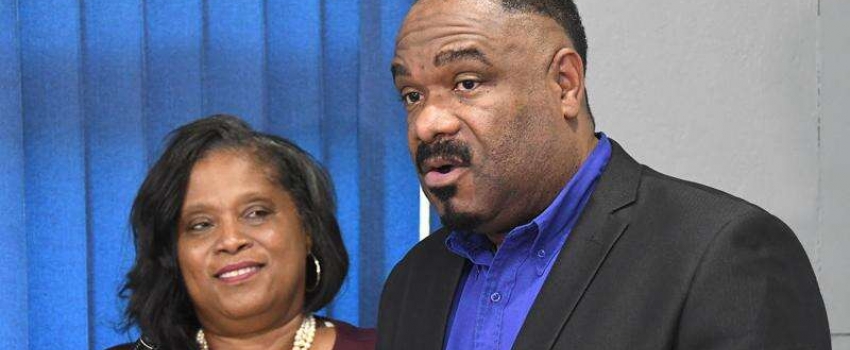 Winston Lawson (right), general manager for trade and commercial loan department, responds to questions about the EXIM Bank's new energy loan product during a launch event on Thursday at the bank's offices on Hope Road in St Andrew. Beside him is Lisa Bell, EXIM's managing director. (Photo: Garfield Robinson)
The roll-out of a new energy loan product by the Jamaica Export-Import Bank (EXIM Bank) will enable more small and medium-sized enterprises (SMEs) to transition to greater use of renewables, especially now as more businesses push to diversify their energy mix and cut operational cost.
At a launch event Thursday, managing director of the EXIM Bank Lisa Bell said the product comes at a very critical juncture when globally the need for environmental, social, and corporate governance (ESG) frameworks by businesses becomes a must-have for the future.
"In these perilous times as the market changes both internally and externally, we are called upon to create products that respond to the needs of our clientèle. The cost of electricity continues to rise and we have heard the cries of our clients in terms of how much this contributes to their expenses, so we have sought to create a new product that will help SME manufacturers and other types of businesses to reduce both cost and carbon footprint," she said.
"We are excited to launch this new energy loan product which is going to allow us to offer, at a very competitive rate, something we believe is designed to help our SMEs become more competitive today and into the future. This is the future of ESG, and we have to ensure that companies are ready to take the right path to sustainability," she added.
Ranked among a number of other bespoke-type solutions carried by EXIM, the new energy loan, fixed at 7.5 per cent, is touted to be among the best in this market segment and is tailored to fund up to 85 per cent of the total cost to acquire and install appropriate solar equipment.
"It [the loan] will do so to a maximum funding of $50 million and a minimum of $5 million. The loan is medium term, non-revolving and a secured product which can go up to seven years," said Winston Lawson, general manager for the trade and commercial lending department at EXIM.
While all loans will attract the usual collateral and other standard borrowing requirements, Lawson emphasised that loans up to $15 million will require the customary details of management accounts and cash flows and those higher will additionally require the attachment of audited statements. For loans exceeding $40 million, an energy audit from a registered auditor is also mandatory, while those below the amount will require an energy assessment from certified professionals.
Underscoring the benefits for companies in trapping solar as a part of their energy mix, Lawson said this latest product will not only help firms to save on current energy cost amid rising electricity prices and low maintenance fees, but will also fast-track achieving Sustainable Development Goals pushing for a cleaner and greener environment whilst creating increased job opportunities for technicians as more companies transition.
"With the support of our stakeholders and other key partners, we are assured that we have delivered yet again. We are now looking forward to an aggressive take-up and stand ready to serve, meet and exceed the needs of local SMEs [in their quest] for suitable and helpful financial products and services," Lawson concluded.
"We want to encourage companies not to wait as converting to renewable energy is a must-do…it's either now or later. But why not do it now when the rates are good? We don't know how long we'll have the funds for [this loan], but certainly it is my aim to get the money out and into the hands of worthy SMEs who want to borrow," Bell further stated.
Source: JIS