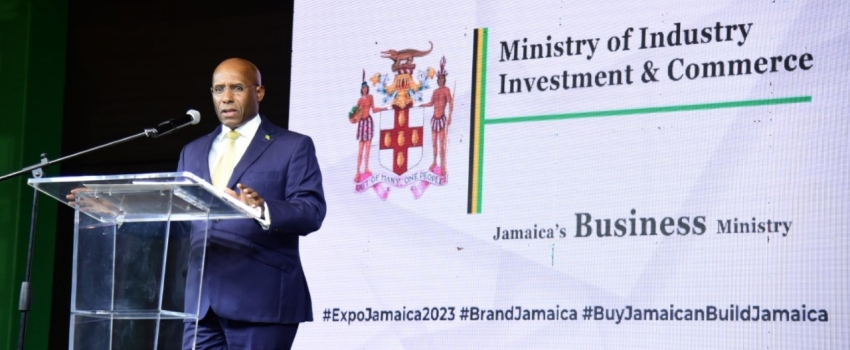 Senator the Hon. Aubyn Hill, address the opening of Expo Jamaica 2023 trade show on April 27 at the National Indoor Sports Centre in Kingston.
The staging of Expo Jamaica 2023 is in keeping with the strategic objectives of the Ministry of Industry, Investment and Commerce, aimed at boosting exports and attracting more business to  the country, says portfolio Minister, Senator the Hon. Aubyn Hill. 
"It fits perfectly with our aim to increase exports [and] bring in new investors –foreign direct investors and especially local direct investments," Senator Hill told JIS News. 
The Ministry, which has been rebranded as 'Jamaica's Business Ministry', is the title sponsor for the four-day expo, organised by the Jamaica Manufacturers and Exporters Association (JMEA), which is now underway at the National Indoor Sports Centre and the National Arena in Kingston. 
 The four-day event, under the theme: 'Connecting the World to Jamaica,' got underway on  Thursday (April 27) and is scheduled to conclude on Sunday (April 30).  
The first two days were dedicated for buyers to transact business with exhibitors while Saturday and Sunday are open to the public. 
Senator Hill said that supporting Expo Jamaica 2023 is a "no brainer" as the event will aid in developing new markets. 
"We don't have a billion people like India where, if even a small number of that billion buy, you have a big market. We have a small market and a small per capita Gross Domestic Product (GDP). Therefore, to expand our market, we must absolutely find new [and] richer markets overseas that people can buy our products. We cannot stay in Jamaica and  expect them to know our products so, we have to put on expos," he pointed out. 
He noted that in 2022, the Ministry partnered with the Inter-American Development Bank (IDB) to host Invest Jamaica 2022 in Montego Bay. 
In that same year, the Ministry, through the Jamaica Special Economic Zone Authority (JSEZA), hosted the Annual International Conference & Exhibition (AICE) organised by the World Free Zones Organization (WFZO).  
 "We had [some] 1,200 people coming from scores of countries [for the WFZO conference]. After the pandemic, it was time for them to come again and see Jamaica as a very attractive investment destination," Minister Hill said. 
Source: JIS