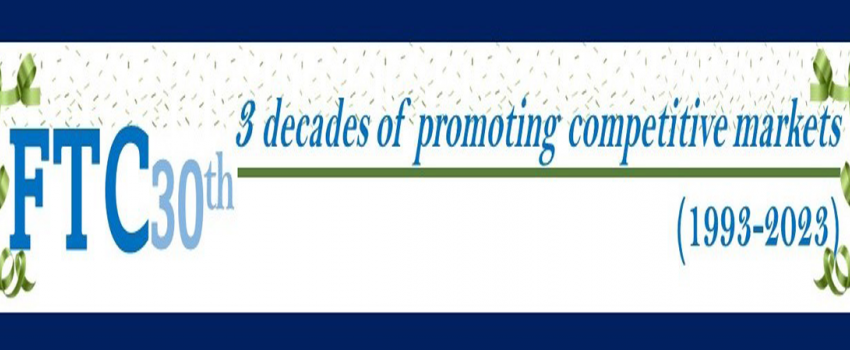 Kingston, Jamaica, 13 September 2023 – The Fair Trading Commission (FTC) will be hosting a Commissioners and Staff Luncheon and Long-Service Awards ceremony on Thursday, September 14 at the Jamaica Pegasus Hotel, under the theme 'Three decades of promoting competitive markets'. The ceremony is part of activities to commemorate the FTC's 30th Anniversary.
Staff members with more than 15 years of service will receive recognition and awards for their remarkable dedication to the Commission.
Senator the Hon. Aubyn Hill, Minister of Industry, Investment and Commerce, who is scheduled to deliver remarks at the special ceremony, emphasizes that this significant anniversary serves as a clear testament to the FTC's unwavering dedication to fostering fair and transparent competition in our market, facilitating equitable business practices nationally and most importantly protecting consumers so that they can be treated fairly by the broader commercial community.
"The FTC stands as a cornerstone among the 20 agencies under the Ministry of Industry, Investment and Commerce. Our commitment to excellence goes beyond words; it is reflected in our actions. Through our Ministry's dedicated efforts, we provide robust support to all our agencies, including the FTC, by offering essential resources, promoting their initiatives, and crafting important and useful legislation.", the Minister said.
Minister Hill adds that the Ministry's dedication to crafting robust legislation reflects its commitment to ensuring that its agencies, like the FTC, have the legal frameworks needed to uphold the highest standards.
The FTC was established in September 1993, following the passage of the Fair Competition Act (FCA) in March that year. The Commission is the administrative body responsible for implementing the Act, with responsibilities that include carrying out investigations into the conduct of business in Jamaica under the provisions of the FCA; advising the Minister on matters relating to the operation of the FCA; and to make available to businesses and consumers, general information on their rights and obligations under the FCA, among other things.
-30-
Source: MIIC