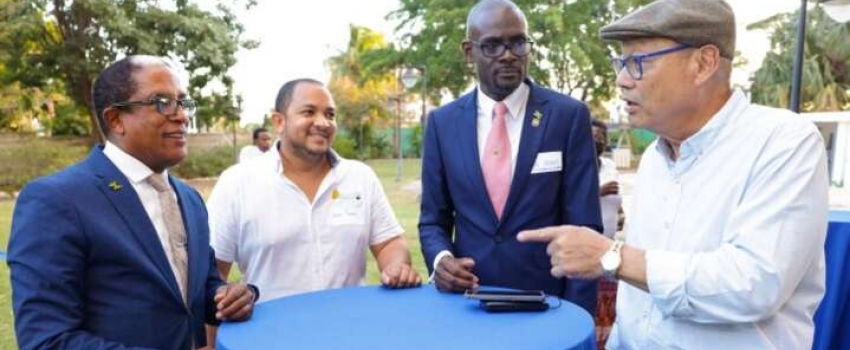 Jordan Dawson (second left), owner and managing director of Dawson Trading Company, listens to a point being made by Herbert Chong (right), executive chairman of Honey Bun, while minister of state in the Ministry of Industry, Investment and Commerce Dr Norman Dunn (left), and president of the Montego Bay Chamber of Commerce and Industry Oral Heaven, look on. 
THE Honey Bun Foundation recently closed out its first cohort of small and medium-sized enterprises (SMEs) in its advisory committee model, with participants reporting exponential growth.
The Honey Bun Foundation's Advisory Committee, which provides teams of expert advisers to help SMEs unlock their potential, has reaped impressive results, with one business reporting a 50 per cent increase in revenue, and another growing from being a small to a medium-sized company.
The Honey Bun Foundation was founded in 2019 by Michelle Chong, CEO of Honey Bun bakery, to create business models for SMEs, and the creative industry, to grow and thrive, consequently giving a fillip to the Jamaican economy.
The first cohort of nine SMEs included Shiloah Beehive, a social enterprise that engages women from rural communities in bee-keeping to enhance pollination of local crops and produce pure honey and by-products.
After participating in the 12-month programme in 2022, working with advisers engaged by the Honey Bun Foundation, executive director of Shiloah Beehive Amanda McKenzie said her business' revenue soared by 50 per cent and her profits jumped by 30 per cent.
"The Honey Bun Foundation's Advisory Committee has helped my business access new markets — new retail markets were added, and this has improved the accessibility of our products for customers," said McKenzie.
"We have also improved financial planning. The guidance in financial planning gave us a thorough understanding of organising the business for financial success," added McKenzie.
The advisers who helped boost the performance of Shiloah Beehive were Rowena Coe, managing director of Marketing Strategy Limited; Atoy Williams, an agronomist; and Prince Graham-Haynes, an entrepreneurial lecturer at the University of Technology, Jamaica.
The programme saw the SMEs working with their advisors on a strategic roadmap and profit and loss templates created by The Honey Bun Foundation. The templates have clearly defined objectives, with milestones and reporting required at monthly meetings.
"It has helped me to develop strategies and the framework necessary to convert my company from a hobby into a business that is poised for growth," said Gordon.
"It was truly refreshing to have a group of persons I could share my ideas with and get really meaningful feedback. Throughout the year, Shevelle was able to move from one distribution outlet to 10, double its sales revenue, and for the first time able to take on staff," Gordon added.
Chong, who founded the Honey Bun Foundation because she understands first-hand the roadblocks and trials faced by entrepreneurs, said she was pleased with the success of the first cohort.
"Small businesses are the backbone of the Jamaican economy. Those of us who have travelled the often lonely and treacherous entrepreneurial road have a responsibility to support those just entering the space, so that they can thrive and better themselves, their families, their communities, and the nation as a whole," said Chong.
"The growth that these businesses have experienced in just a short time demonstrates the power of governance, expert guidance, and support. I am very pleased with the results that have been reported and look forward to many more stories of success," Chong added.
Jordan Dawson, owner and managing director of Dawson Trading Company, a Jamaican frozen produce business, said the Honey Bun Foundation has been a game changer.
"Through its advisory committee model, the Honey Bun Foundation has provided Dawson Trading Company its bedrock for growth, allowing our company to grow its revenue by over 50 per cent per, moving Dawson Trading Company from a small to medium company in just two years," he said.
The advisers who worked with Dawson Trading Company were Ricardo Durrant, investment, and promotions manager at Jampro; Nicholas Dawson, a senior manager at Scotia Investments; as well as Chong who also lent her expertise to help grow the business.
General manager of The Honey Bun Foundation Nashauna Lalah said that now that the model has been tried and proven, greater things are ahead.
"We know that this model works, so we will only improve and grow from here. This means more businesses benefiting and more dreams being realised. The heart of this programme is the advisers who give their time and energy selflessly to help others to achieve their goals.
"They represent the best of Jamaica, and we thank them for their support and look forward to wonderful things to come," said Lalah.
Source: Jamaica Observer