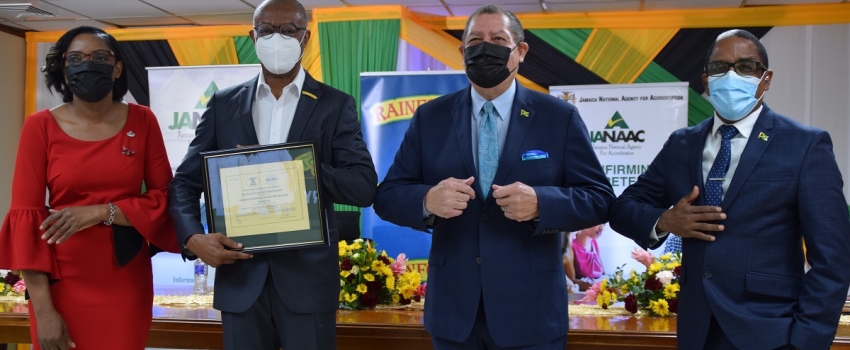 Minister of Industry, Investment and Commerce, the Hon. Audley Shaw has called on Jamaican organizations to seek accreditation through the Jamaica National Agency for Accreditation (JANAAC), in order to effectively integrate into the global trading environment and to buffer external shocks.
He was addressing an awards ceremony on September 2, 2021, organized by JANAAC, to recognize Rainforest Seafoods Limited, whose Microbiology Laboratory was accredited to the ISO/IEC 17025:2017 standard for Food Testing, in June this year.
According to Shaw, "the sustainability, innovation and international comparability of our nation's main productive sectors such as manufacturing, will be a key contributor to advancing our efforts to recover stronger, in a post COVID-19 pandemic era."
He noted that JANAAC, along with other agencies under his Ministry, will continue to implement the National Quality Policy of 2019, with the overarching goal of bringing Jamaican goods into compliance with global requirements. This he said would "help to advance initiatives taken, to create optimistic outcomes for future generations, to reap the benefits of sustainable and internationally competitive Jamaican industries."
Also speaking at the event was State Minister in the Ministry of Industry, Investment and Commerce the Hon. Dr. Norman Dunn, who in congratulating the awardee, outlined that their accreditation "will provide additional technical support for its manufacturing operations, in the fulfillment of local and international demand and facilitate their entrance into new, emerging and foreign markets through increased capacity."
CEO of JANAAC, Sharonmae Shirley disclosed that Rainforest Seafoods Limited Microbiology Laboratory, is the first Jamaican conformity assessment body to complete the accreditation process in under five months and pointed to the Planning Institute of Jamaica's latest Performance Review, showing notable growth, among local goods-producing industries, as she emphasized the role of quality management institutions, in supporting national growth indices.
"JANAAC has been steadfast in its mandate to facilitate trade between Jamaica and its trading partners internationally. We do this through enabling conformity assessment bodies to meet global specifications, such as the World Trade Organization's Agreement, on Technical Barriers to Trade." She said the agency has clients in ten CARICOM states and will be audited by the United States Food and Drug Administration (FDA) later this year, in its quest to become a recognized FDA third party accreditation body; providing ease of exportation for regional interests to the United States.
Meanwhile, General Manager of Rainforest Seafoods Limited, Jerome Miles responded on behalf of the entity, noting that they were officially granted accreditation status by JANAAC within thirty months of the start of construction of their microbiology laboratory on Slipe Road, Kingston.
"The laboratory is part of Rainforest's commitment, as stated in our mission, to provide the highest quality products to our customers. It is also a key tool in our export thrust. With this accreditation, we are expecting to be able use our analytical results to get health certificates from the Veterinary Services. This will save us significant money and time."
At present, accreditation is not compulsory in Jamaica. However, legislation is increasingly being developed internationally that makes it mandatory to use accredited facilities.
###
For More Information, Please Contact:
Mr. Daren Miller
MARKETING AND COMMUNICATIONS OFFICER
JAMAICA NATIONAL AGENCY FOR ACCREDITATION
Tel: (876) 968-7790 ext. 2005 (Office) | (876) 550-8953 (Mobile)
Email: daren.miller@janaac.gov.jm | publicrelations@janaac.gov.jm
Website: www.janaac.gov.jm
Instagram: https://www.instagram.com/janaac_acc/?hl=en
Facebook: https://www.facebook.com/JANAAC/
Twitter:https://twitter.com/JANAAC_Acc?ref_src=twsrc%5Egoogle%7Ctwcamp%5Eserp%7C...
YouTube: https://www.youtube.com/channel/UC5ZpHWFzwP6wt4J_cxinK1g
LinkedIn: https://www.linkedin.com/company/77214888/admin/
DOWNLOAD IMAGES HERE: https://we.tl/t-7N3xgKaqIc