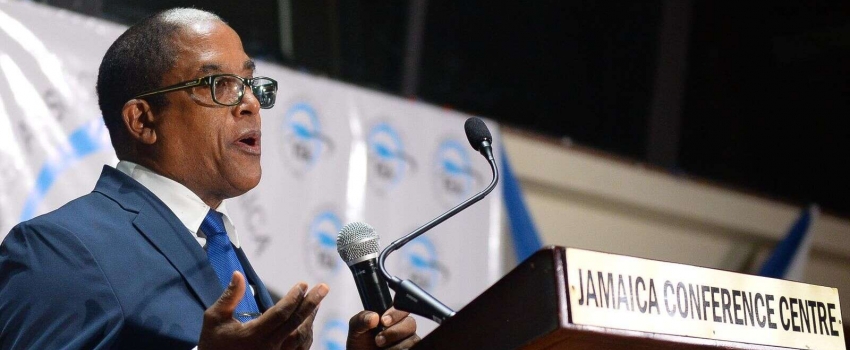 Minister of State in the Ministry of Industry, Investment and Commerce, Dr Norman Dunn. Photo: JIS
KINGSTON, Jamaica – Persons accessing virtual healthcare in Jamaica can now have greater confidence that the services being delivered are of a high standard.
This, as the Bureau of Standards Jamaica (BSJ) has launched the JS 359:2022 Jamaican Standard Specification for Telemedicine, which provides the framework through which telemedicine may be safely practised while upholding the integrity of the medical profession.
The standard enables registered medical and other health and allied practitioners to use telemedicine tools in their daily practice, taking into consideration the importance of protecting patient information.
Defined as the delivery of health and medical care services by a designated provider from a distance, telemedicine utilises information and communications technology tools for diagnosis, treatment, disease prevention, research and evaluation, and health education or counselling.
These services may be provided via video, phone and Internet-based platforms such as web chat, digital applications, and web portals in Jamaica.
Telemedicine appointments have become more popular over the last several years, particularly since the onset of the pandemic, giving rise to the need for standardised practices to regulate the sector.
State Minister in the Ministry of Industry, Investment and Commerce, Dr Norman Dunn, in his address at the virtual launch of JS 359:2022 on February 9, commended the BSJ and its partners for being responsive to the demands of a changing world through the development, review, and adoption of standards for this aspect of medical care.
"I commend the team for its efforts and encourage you to remain alert to trends across the world that will help to advance Jamaica's preparedness to be a major global participant," he said.
Executive Director, BSJ, Dr Velton Gooden, said the launch of JS 359:2022 forms part of the wider mandate of the agency to standardise the processes and practices in the healthcare system.
He noted that the standard arose from the need to ensure the safety, quality, and reliability of healthcare being delivered remotely.
"Standards development forms part of the BSJ's core functions and the national quality infrastructure of Jamaica for which the BSJ is a key pillar. There is a standard for everything, and needless to say, there is definitely a standard for telemedicine," he stated.
The standard covers provider-patient relationship; issues of liability and negligence; evaluation, management and treatment; informed consent, continuity of care; referral for emergency services; medical records; privacy and security of patient records and exchange of information; prescription and reimbursement; and health education and counselling.
Source: Jamaica Observer