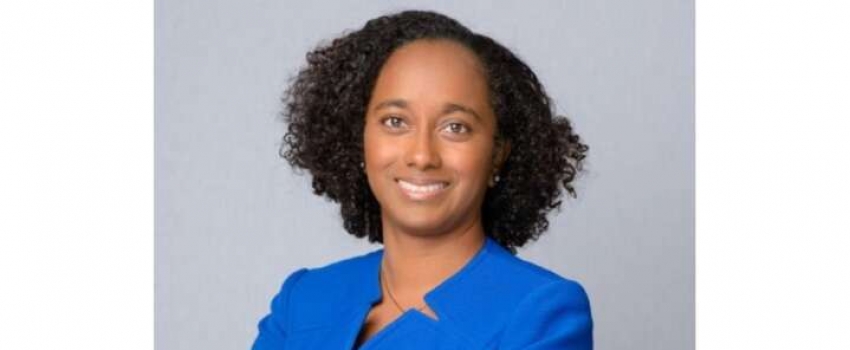 COX... I look forward to working with staff, the board of directors,the ministry and our public and private sector partners to growsignificantly Jamaica's exports (Photo: JIS)
THE board of Jamaica Promotions Corporation (Jampro) has appointed Shullette Cox as its new president.
Cox, who started her career at Jampro as an intern more than 20 years ago, was appointed vice-president in August 2013, and most recently led the Research, Advocacy and Project Implementation Division.
In that role she led in supporting the implementation of investment projects as well as creating and advancing policies and reforms to make it easier to do business in Jamaica. Notably, she had oversight of various national programmes, including the National Competitiveness Council, and spearheaded the development of critical initiatives such as the National Investment Policy and the National Business Portal.
She is recognised across the public and private sectors for her range of knowledge and experience in economic development issues. She previously held roles at the Office of the Prime Minister in 2008 and the Cannabis Licensing Authority, where she was interim CEO at its establishment in 2015, concurrent with her role at Jampro.
In addition, Cox serves as a board member for the Development Bank of Jamaica's Credit Enhancement Fund, the Cannabis Licensing Authority, and the Jamaica International Financial Services Authority
"I look forward to working with staff, the board of directors, the ministry, and our public and private sector partners to grow significantly Jamaica's exports, to increase substantially local and foreign investments into the economy, and to advocate proactively for improvements in the business environment as we strive," a Jampro release quoted Cox as saying.
She will also be working closely with key entities such as HEART/NSTA Trust, and others, to expand Jamaica's workforce by ensuring that Jamaicans, and in particular Jamaican young people who are not now in the workforce, can take advantage of training, apprenticeship, certification and employment opportunities that are available, said the release.
Cox holds a Master of Arts in Development Economics from Williams College, where she attended as an OAS scholar; and possesses a Bachelor of Science in Economics and International Relations from The University of the West Indies.
The mission of Jampro — an agency of the Ministry of Industry, Investment and Commerce — is to drive economic development through growth in investment and export.
Jampro Chairman Melanie Subratie, in announcing the appointment of the new agency head, said "Shullette Cox was instrumental in the successful execution of numerous initiatives at Jampro which have helped establish Jampro and Jamaica as a global leader. Notably, Shullette has helped to drive the execution of numerous government reforms that have led to an increase in Jamaica's global ranking on the Doing Business Report, including reforms that moved Jamaica from 21st in starting a business to number six in the world, and leaders in the Caribbean."
Source: Jamaica Observer