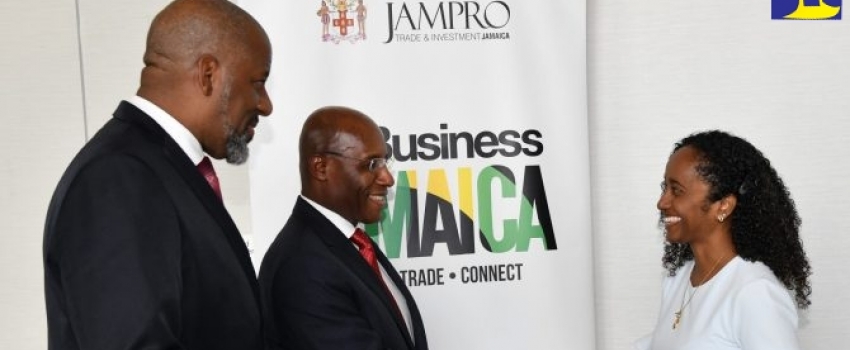 Minister of Industry, Investment and Commerce, Senator the Hon. Aubyn Hill (centre), is greeted by President of Jamaica Promotions Corporation (JAMPRO), Shullette Cox, ahead of the launch of the 'Jamaica Business Gateway' virtual platform held at the AC Hotel by Marriott in Kingston on Wednesday, May 17. At left is Director General of the Planning Institute of Jamaica, Dr. Wayne Henry.
Jamaica Promotions Corporation (JAMPRO) has launched a new online portal to provide companies with the information and resources needed to interact and do business with government.
The 'Jamaica Business Gateway' platform will enable members of the public and private sector to easily access the essential services related to government processes required for business development.
Speaking at the launch, held at the AC Hotel by Marriott in Kingston on May 17, President of JAMPRO, Shullette Cox, described the Gateway as one giant step closer to making digitised government services a reality.
"Today, I stand before you with so much pride and excitement as we launch the Jamaica Business Gateway, an online portal that will revolutionise the way businesses apply for and track various permits, licences and approvals from the government," Ms. Cox said.
"The launch is the beginning of a journey that will eventually see all of the government's business services linked and integrated in a single online space," she added.
With the ever-changing needs of businesses and the fast-paced digital era in which persons live, Ms. Cox emphasised that it is crucial for the government to keep up the pace to fulfil those needs.
To this end, JAMPRO formed a team, supported by four private-sector entities, which has been working tirelessly for the past two years to develop a platform that simplifies bureaucratic processes and empowers entrepreneurs, both big and small, to navigate government's administrative landscape seamlessly.
The JAMPRO President explained that "the Gateway [will] give businesses the ability to find step-by-step information on various government processes as well as to complete applications online from the comfort of their own office or homes".
It will also allow them to track the application as it moves through the decision-making process.
"This transformative leap into the digital realm will not only save valuable time for companies that need more time to make their businesses work and succeed but will also improve transparency, accountability, and overall efficiency in government," Ms. Cox argued.
Regarding the platform's key features, she highlighted that it has been designed to be accessible to all, regardless of geographical location or infrastructural limitations.
"Accessibility lies at the core of our digital vision [as] businesses operate in diverse environments, from the bustling cities of Kingston and Montego Bay, across towns on the island, as well as remote rural areas," Ms. Cox said.
The platform has also been designed to be compatible with a wide range of devices and operating systems, ensuring that businesses are not hindered by technological constraints.
Among the other keys features of the platform are its user-friendly interface and quick guide that offers snapshots of some of the things to note for specific industries, such as tourism, farming and manufacturing.
"We understand that navigating complex government processes can be daunting, especially for small and medium-sized enterprises. We also understand that not every company has an IT department or research team to put together information," Ms. Cox said.
"With the gateway, hopefully, gone are the days of confusion and frustration, as businesses will now have a seamless experience that eliminates any ambiguity," she added.
Source: JIS