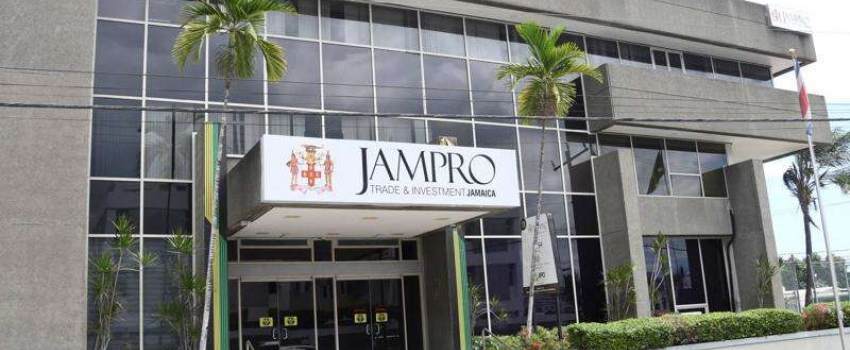 Jampro offices located along Trafalgar Rd in Kingston. (Photo: Garfield Robinson)
hrough a number of pre-packaged investment opportunities, chief State marketing company Jamaica Promotions Corporation (Jampro) is looking to lure new investors as it pushes to maximise growth for the country.
According to Gabriel Heron, vice-president for marketing and opportunity packaging at the promotions agency, the refocused objective of pre-packaging key opportunities as "off-the-shelf structured investments" aims to capture the interest of potential buyers and investors locally and overseas.
"What we have done is to go through a range of investment opportunities and package them in investor language, providing them with the financial and other details as it relates to the returns on investment (ROI) and payback period, etc. In this way, the decision for investors becomes a lot easier and the measurement and output from a Jampro perspective also becomes a lot more tangible," he said during a Jamaica Observer Business Forum held last week at the entity's Trafalgar Road offices.
"We currently have about eight projects packaged and we're looking to transition to at least 20 per annum… and that is sort of a stretched target. Ideally, what we want to have is a consistent flow of projects, so that once we source an ideal investor we can have a good bag of offering to start with," Heron further said, noting projects across industries such as agriculture, infrastructure and logistics among those targeted.
"These include a combination of both private sector and Government-based projects attracting large and small investors alike and at values ranging from US$80,000-US$800 million depending on the type of project," he added.
Norman Naar, VP of investments and linkages, speaking at the forum further indicated that of the eight projects now packaged, one which is now in an advanced stage of negotiation, will in short order see a large investor taking an almost 80 per cent stake in a local manufacturing company. This, following a significant but undisclosed level of investment that was made.
Tight-lipped about the details of the transaction which he said remains highly confidential, Naar indicated that more information is to come at a later day. The limestone industry, which he also said was now heating up, is expected in the coming months to welcome a new player — the details of which he also refrained from sharing.
The senior VP, referring to data which shows as much as 70 per cent of the investments now taking place locally and being executed by companies already on the ground, said that in going forward no investor will be overlooked.
"As a result, we continue our focus not just on foreign direct investments, or those investors coming into the island, but also on companies operating locally. Our intention is to continue to focus on these entities and to support them in their expansion efforts, particularly for exports," he stated.
The pre-packaged opportunities, which the Jampro executives said were separate but complementary to its existing shovel ready programme, which was largely crafted around tourism, is to be seen as different in the sense that its expanded focus now include a number of other sectors.
President of Jampro Shulette Cox, in underscoring that currently there were two types of packages, said that one allows investors to share their ideas for the opportunities in which they seek investment, with the other crafted around available opportunities, including those within new industries.
"A [package] that we have is developed around limestone which includes the value added nature of this industry and the fact that we can now do cultured marbling locally. By putting this package together we can now inform potential investors of market analysis in terms of supply and demand, start-up costs, potential cash flow and ROI on their projects of interest," she said further emphasising that through these the packaged projects investors are offered a lot more leverage to decide on whether or not a project will be beneficial to them.
Source: Jamaica Observer