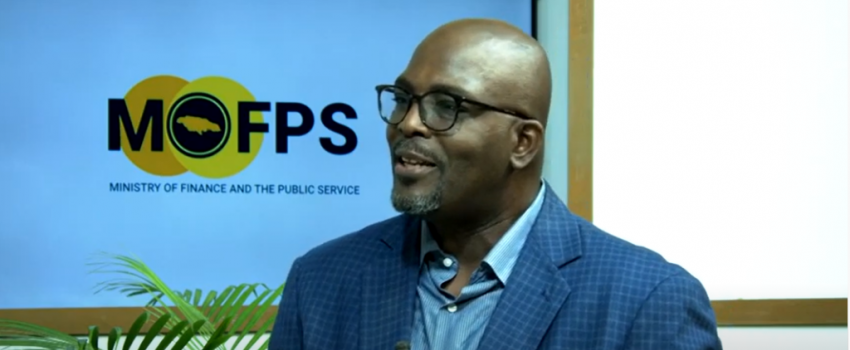 Harold Davis, deputy chief executive officer at the Jamaica Business Development Corporation (JBDC). (Photo: JIS)
The Jamaica Business Development Corporation (JBDC) will roll out a week of activities to celebrate Global Entrepreneurship Week (GEW) 2023.
The global celebration of entrepreneurs will run from November 13 to November 19, as JBDC in association with Sagicor Bank, join under the theme, 'GEW D.R.I.V.E. – Developing Rich Industry Value Chains for Exports'.
Harold Davis, deputy chief executive at the JBDC explained, "The agency has a responsibility to create new opportunities for MSMEs by facilitating industry development through value chain creation to ultimately boost exports".
During its weeklong schedule of GEW activities, JBDC will continue to highlight and stimulate emerging and existing manufacturing industries, particularly those served by its Incubator & Resource Centre (IRC), including craft, fashion, essential oils and agro-processing. These industries stand to contribute immensely to gross domestic product (GDP) and Jamaica's export agenda.
A church service will mark the launch of the GEW activities and celebrate the 60th anniversary of the JBDC's 'Things Jamaican' brand at the Portmore New Testament Church of God on November 12.
The JBDC Incubator & Resource Centre will come alive on November 13 with a business dialogue forum and agro-processing exhibition panel discussion under the topic, 'Going Global: Planting and Packaging Brand Jamaica for Export'. 
The event features a panel discussion among experts in the field, and an exhibition of agro-processors, including participants in the Jamaica Harvest specialty food challenge, who are vying for awards in innovation of products using pumpkin as the main ingredient.
Attendees will also have a chance to view live demonstrations of equipment inside the newly renovated agro-processing incubator, an initiative funded by the European Union (EU), managed by the Caribbean Development Bank (CDB), and implemented by JBDC. The project aims to boost production and export in the industry.
Entrepreneurs can join on November 14 for the 'essential oils opportunity hour' and demo day; a spinoff of the JBDC's Opportunity Evening event to highlight the services of the recently constructed essential oils incubator, as well as showcase the oil extraction process and the different uses of the oils in the production process.
Davis points out that "the establishment of both the essential oils incubator and the agro-processing incubator represents the achievement of the JBDC's strategic objective to drive new business opportunities along industry value chains by establishing two industry specific incubators by 2023."
The fashion and artisanal showcase on November 15 is inspired by the popular 'GRWM' social media trend. The JBDC has trained over 100 artisans in the art of Jadire. Jadire is coined from combining 'Jamaica' with the Yoruba word ''Adire'' meaning 'tie and dye', an indigo-dyed cloth made from southwest Nigeria by Yoruba women using a variety of resist-dyeing techniques. Several local producers have since commercialised.
Pieces from these producers will be on full display. The aim is to demonstrate how fashion and craft industries complement each other through shared production and retailing. Attendees will also see a demonstration of jewellery-making techniques using metal, dubbed 'Metal Beats'.
Entrepreneurs will then gather for the raising capital mini-business expo on November 16, which will feature one-on-one consultations with exhibitors including JMMB, TAJ, Bureau of Standards, EXIM Bank and First Heritage Credit Union. Presentations and a panel discussion on financing will also be held.
Over 60 producers and merchants of authentic Jamaican products will gather at the JBDC's Camp Road corporate office, in a display of products in the categories of food, fashion, fashion accessories, aromatherapy, home & home accents and souvenirs on November 17 at the 60th anniversary early christmas trade show. 
The event will run from 8:00 am-6:00 pm and will also feature product samples, discounts and give-aways. The day will include a special edition presentation of the JBDC's B.O.S.S Awards where four stellar entrepreneurs in manufacturing will be awarded.
All activities for November 13-16 are being held at the JBDC Incubator & Resource Centre located at Unit 10a on 76 Marcus Garvey Drive in Kingston. Registration is required at no cost.
https://our.today/jbdc-embarks-on-weeklong-celebration-to-mark-gew-2023/...
Source: Our Today