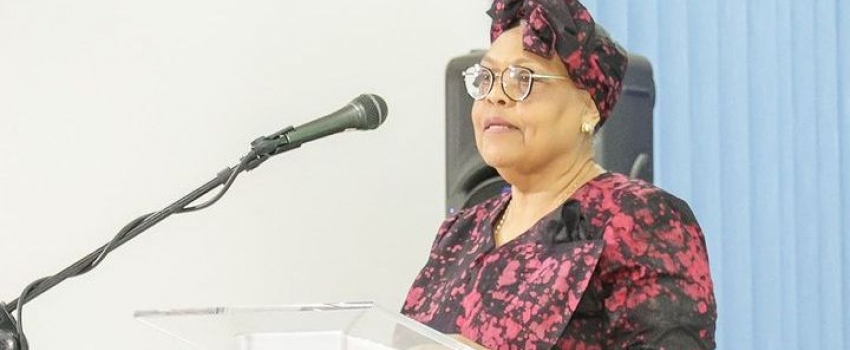 Valerie Veira, the chief executive officer of the JBDC (Photo: sagicorja)
Entrepreneurs in the local agro-processing subsector are set to benefit from technical support and other business development services to drive the overall growth and sustainability of their businesses.
This comes with the grand opening on Monday, November 13, of an agro-processing incubator at the Jamaica Business Development Corporation (JBDC) Incubator and Resource Centre on 76 Marcus Garvey Drive, Kingston 13.
This new agro-processing facility was implemented by the JBDC, with funding from the European Union (EU) and the Caribbean Development Bank (CDB). It is geared towards boosting production and exports in the agro-processing sector.
The JBDC CEO further noted that the entrepreneurs will not only be provided with an environment to manufacture their products but also a support system to market their products.
"One is to ensure that they have a business designed for success, so we say from concept to market. So, the business development service will be provided so they have a proper business plan, they know where they are going, if they are going to need funding, they have documentation, they can go to a bank or wherever else and they can also speak intelligently about their business because we want them to be organised so it can be sustainable," Veira added.
Rodriguez Ruiz, head of cooperation at the Delegation of the European Union in Jamaica, also noted that the opening of the agro-processing incubator will allow entrepreneurs to meet market access requirements for key export markets, likewise improving branding and marketing to further increase demand for the products.
"We are also delighted to know that this facility will benefit small and micro businesses outside of this cluster, because it's not just the enterprises that are directly benefiting from this programme but its everything that is connected with them. The benefits of this programme can be extended to the global space that will further contribute to the overall financial sustainability of this initiative," Ruiz said.
Minister of Industry, Investment and Commerce Aubyn Hill, who was also in attendance at Monday's launch, described the initiative as a significant milestone in Jamaica's path to entrepreneurial excellence.
"The initiative is a vital step in our journey at the Ministry of Industry, Investment and Commerce aligning perfectly with our strategic goal to develop and strengthen the industry value chains for export," he said.
The grand opening of the JBDC agro-processing incubator is a part of the JBDC's, in collaboration with Sagicor Bank, week-long celebration of Global Entrepreneurship Week, which is being championed under the theme 'Developing Rich Industry Value Chains for Exports'.
The week's activities include a Business Dialogue Forum and Agro-Processing Exhibition on Monday, Essential Oils Opportunity Hour and Demo Day on Tuesday, November 14; a Fashion and Artisanal Showcase on Wednesday, November 15; and a Raising Capital Mini-Business Expo on Thursday, November 16.
https://our.today/jbdc-opens-agro-processing-incubator/#google_vignette
Source: Our Today