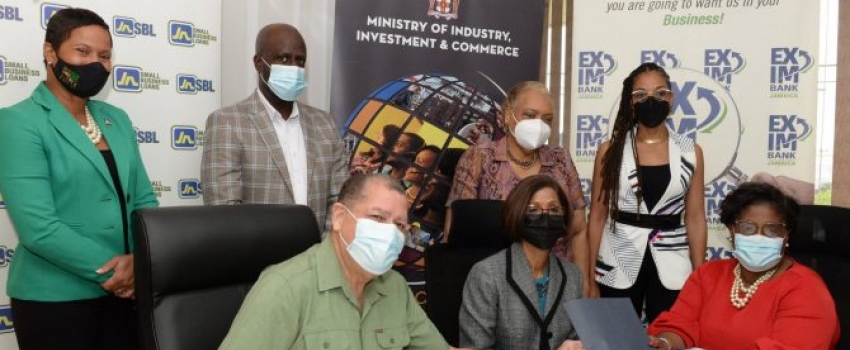 Minister of Industry, Investment and Commerce, Hon. Audley Shaw, delivers the keynote address during the launch of the $675-million Micro, Small and Medium-sized Enterprise (MSME) Loan Programme, at the Ministry's offices in New Kingston, on Thursday (June 24).
Micro, small and medium-sized enterprises (MSMEs) are now able to access $675 million in additional funding support from the Government, under the new 4.75 per cent MSME Loan Programme.
The facility, which was officially launched on Thursday (June 24), is being spearheaded by the Ministry of Industry, Investment and Commerce, through portfolio agency the National Export-Import (EX-IM) Bank, in tandem with Jamaica National Small Business Loans Limited (JNSBL).
Portfolio Minister, Hon. Audley Shaw, who announced the initiative during his 2021/22 Sectoral Debate presentation in the House of Representatives in May; Permanent Secretary in the Ministry, Sancia Bennett-Templer, and EX-IM Bank Managing Director, Lisa Bell, signed a Memorandum of Agreement (MOA), formalising the programme's implementation arrangements.
The signing took place at the Ministry's offices on St. Lucia Avenue, in New Kingston.
The programme is intended to further assist entities in the productive sector that have been adversely impacted by the economic fallout resulting from the coronavirus (COVID-19) pandemic, by facilitating increased access to affordable financing.
Target sectors include agriculture, manufacturing (including agro-processing), and tourism linkages.
Approximately $200 million, to be managed by JNSBL, has been programmed for micro businesses, which will be able to access between $500,000 and $5 million, repayable over 60 months at an interest rate of 4.75 per cent per annum, with a one-year moratorium.
EX-IM Bank will focus on small and medium-sized enterprises (SMEs), which will be able to borrow between $5 million and $25 million under similar terms.
Mr. Shaw, in his remarks, said MSMEs are critical to Jamaica's economy, noting that they are pivotal in driving innovation, development and job creation.
Consequently, he said the programme will provide strategic business development support, "which has been identified as an essential component in ensuring the growth and development of the MSME sector".
"The Ministry is committed to providing additional support for MSMEs and will continue to forge new partnerships with financial institutions to create innovative funding solutions for various industries, especially those that are underfunded, despite having potential," Mr. Shaw said, while thanking JN Small Business Loans "for their willingness to partner with us on this programme".
In her remarks, Mrs. Bell said the loan programme formed part of a broader Ministerial effort, "as we seek to build [back] our nation stronger and faster [from the impact of COVID-19]".
"This MSME loan programme has been designed to be another tool in the arsenal of EX-IM's RESET Programme, an acronym which we use to focus on our efforts to Rebuild, Engage and (Stabilise the Economy Together) to stimulate our economy, and to ensure that the MSME sector gets the critical support that it desperately needs," she pointed out.
Mrs. Bell said the Bank is "particularly seized" with the importance of improving MSMEs' access to finance, particularly at this time, noting that this continues to be a "major hindrance" to the growth of these stakeholders.
For her part, General Manager, JNSBL, Gillian Hyde, said JN Group "commends the Ministry and Government on the launch of this very special initiative".
"As the global and local economies continue to stabilise amidst the ongoing challenges of COVID-19, it is with honour that JN Small Business Loans participates in this programme and partners with EX-IM Bank to focus on helping to reset the MSME industry," she said.
Source: JIS