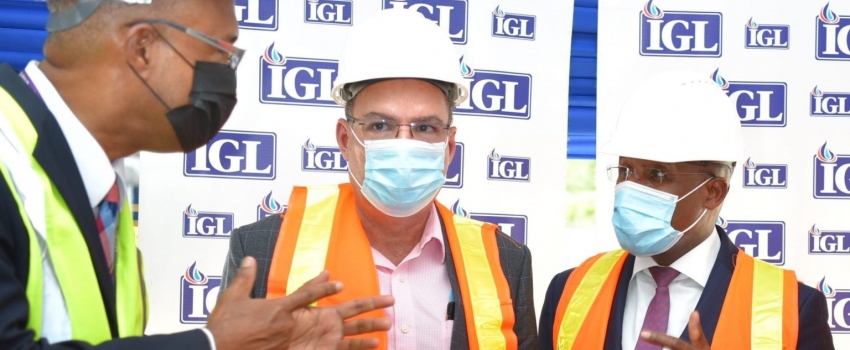 Minister of Industry, Investment and Commerce, Senator the Hon. Aubyn Hill (right), converses with IGL Limited Managing Director, Peter Graham (left), during the recent commissioning of the firm's Pressure Swing Adsorption (PSA) plant in Ferry, St. Catherine. Listening is Minister of Science, Energy and Technology, Hon. Daryl Vaz.
Business and health sector leaders have welcomed the development of IGL Limited's new Pressure Swing Adsorption (PSA) oxygen plant at Ferry in St. Catherine, which was established at a cost of nearly $100 million.
The facility, which was commissioned into service recently by Industry, Investment and Commerce Minister, Senator the Hon. Aubyn Hill, will boost IGL's and, by extension, Jamaica's medical-grade oxygen production capacity by over 40 per cent.
Its development is deemed timely, as Jamaica continues to navigate health challenges associated with the lingering pervasive novel coronavirus (COVID-19).
The new facility complements IGL's air separation unit, built in 2018, which manufactures liquid oxygen and nitrogen.
The overall expansion now better positions IGL to meet domestic market demand for medical and industrial gases including carbon dioxide, and export demand for these products.
Jamaica Manufacturers and Exporters Association (JMEA) President, John Mahfood, describes the undertaking as a "very important investment.
"It makes us self-sufficient in oxygen [production and] gives us the ability to export important gases," he tells JIS News.
Mr. Mahfood says IGL's investment is the kind that is welcome both locally and regionally "when things are difficult.
"This, in order that we, in the Caribbean [can be more] self-sufficient in important [inputs] that we need, whether it's glass bottles or cans, or whether it's something as important as oxygen for the welfare of people. So, it is the perfect type of investment for Jamaica," he adds.
Regional Director for the South East Regional Health Authority (SERHA), Errol Greene, describes the buildout as a "welcome addition to the [medical oxygen production] capacity.
"We were in constant dialogue with IGL, they [kept us abreast of] what they were doing." He adds that it was a privilege to be part of the process and to represent the regional health authorities at the commissioning of the plant.
Southern Regional Health Authority (SRHA) Regional Director, Michael Bent, says the organisation fully supports IGL's undertaking, while describing the entity as a "very vital partner to the health sector.
"We are really happy for and support the expansion. The health sector certainly stands to benefit significantly, as also the wider country," he tells JIS News.
Source: JIS