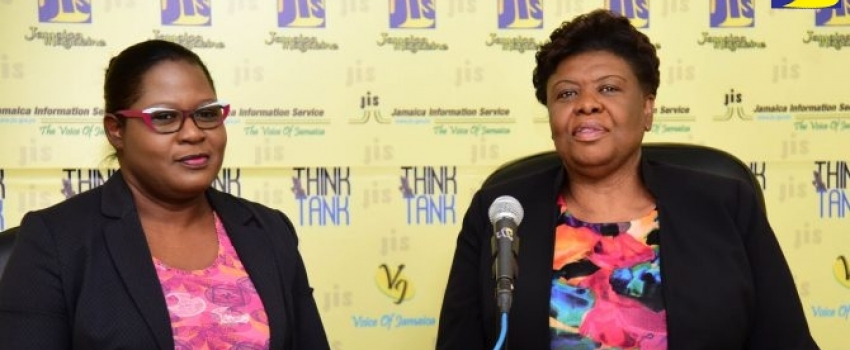 Chief Executive Officer, Consumer Affairs Commission (CAC), Dolsie Allen (right), outlines the importance of including children in the process when doing a budget, during a recent JIS 'Think Tank' in Kingston. Listening is Communications Director at the CAC, Latoya Halstead.
The Consumer Affairs Commission (CAC) is encouraging parents/guardians to include children in the process when planning a budget.
Speaking at a recent JIS 'Think Tank', Chief Executive Officer (CEO), CAC, Dolsie Allen, said that getting children involved will ensure they become aware of the family's financial situation.
"When they are part of the process, and they own the process, they will understand that Mommy and Daddy or whoever their guardian is, really don't have that amount of money to spend. So, they'll be more conscious," said Mrs. Allen.
She noted that very often children place "great demands" on their parents, not knowing the budgetary constraints.
"They want everything and they want all the brand names, and they want to do all these things [and] go all these places," Mrs. Allen pointed out.
The CEO explained that a budget is a very simple plan that records an individual's income and all that is spent.
"When we start writing down these things… it's amazing how more conscious we are in terms of our spending pattern, because we realise, I may have to cut back on this or I may have to increase my income in order to survive," said Mrs. Allen, adding that "it gives an idea of how we can manage ourselves".
Meanwhile, Communications Director at the CAC, Latoya Halstead, is encouraging consumers to review their budgets regularly and hold themselves accountable.
"Always hold yourself accountable or even have an accountability partner, because at the end of the day, in our head, we know what we want, but this is the reality that's facing us," she said, noting that when under pressure an individual may make a decision that is not necessarily favourable6 for them.
The CAC is on a drive to help consumers become more informed about financial matters. For World Consumer Rights Day (WCRD), being observed on Wednesday, March 15, focus is being placed on financial literacy.
The CAC will commemorate the day under the theme 'Level Up: Manage Your Money'.
There will be several media activities to mark the observance, including a message by the Minister of Industry, Investment and Commerce, Senator the Hon. Aubyn Hill, which will be published.
There will also be discussions on topics such as credit report, budgeting, understanding interest rates, how to improve your income, debt management/reduction strategies and managing money (safety practices).
Source: JIS