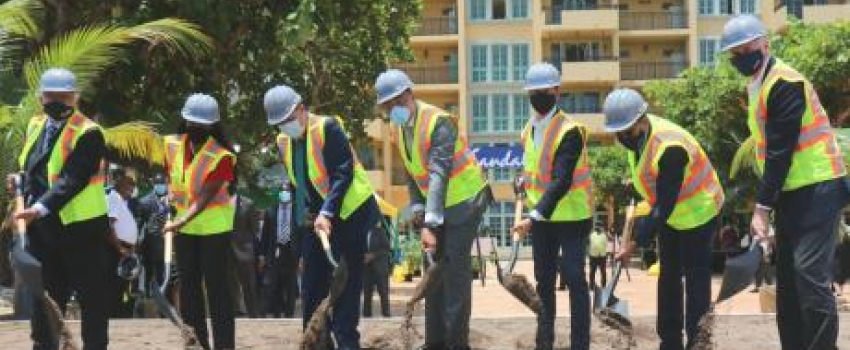 Prime Minister Andrew Holness (centre) participating in Wednesday's groundbreaking ceremony in St Ann. From left are Karl Samuda, minister of labour and social security; Marsha Smith, member of parliament for St Ann North East; Audley Shaw, minister of industry, investment and commerce; Adam Stewart, executive chairman, Sandals Resorts International (SRI); Shawn DaCosta, chief operating officer at SRI; and Gebhard Rainer, CEO, SRI.
First out the door to reopen during the coronavirus pandemic, Sandals Resorts International (SRI) has embarked on a strategic growth plan for its Jamaica operations, breaking ground for two multibillion-dollar resort investments here.
A third resort, the former Jewel Runaway Bay, is to be demolished, rebranding under the family-themed Beaches.
On Wednesday, the Jamaican family-owned and -operated hotel group turned soil for the J$36.1 billion redevelopment of its original Sandals Dunn's River property and the construction of a new Sandals Royal Dunn's River in Ocho Rios.
Phase one of the new project will be completed by the last quarter of 2022, allowing the hotel group to capitalise on the winter tourist season.
In 2020, Sandals repurchased the property, which it operated in the 1990s, from Sagicor Bank, in addition to adjoining land for the construction of Royal.
Carrying on his father's legacy, Sandals Executive Chairman Adam Stewart spoke of a grand transformation plan.
The hotel will be sustainably designed, with spring water from Dunn's River Falls flowing through the resort.
The investment, the first of its kind since the island watched its single most important foreign exchange generator decimated by the pandemic, is evidence of Jamaica's rebound, said Prime Minister Andrew Holness, who gave the keynote address.
Holness said that Jamaica was en route to welcoming more than five million stopover and cruise ship visitors before that trajectory was derailed. However, through Sandals Dunn's Rivers' injection, 2,100 jobs have opened up on the project and another 1,336 new positions will become available at the hotel.
ENGINEERING MARVEL
Sandals Dunn's River will offer 260 rooms, including 48 signature Skypool Suites – a new Sandals category for Jamaica and an engineering marvel, stated Adam Stewart, noting that the hotel will feature a private cantilevered, solar-heated plunge pool with infinity edge, among other amenities.
It will also have 10 restaurants, a Red Lane Spa, nine bars, and seven pools.
Phase II will see the creation of the sister-property Sandals Royal Dunn's River, with 250 luxurious rooms and suites.
It is slated for completion in 2023.
"A Blue Mountain coffee shop will delight guests and pay tribute our blend known the world over. It will be the most boutique and sophisticated all-inclusive resort in Jamaica with generous exchange privileges between the two properties," said Stewart, citing that it was the last collaboration he did with his dad, Gordon 'Butch' Stewart, who died in January.
Source: The Gleaner