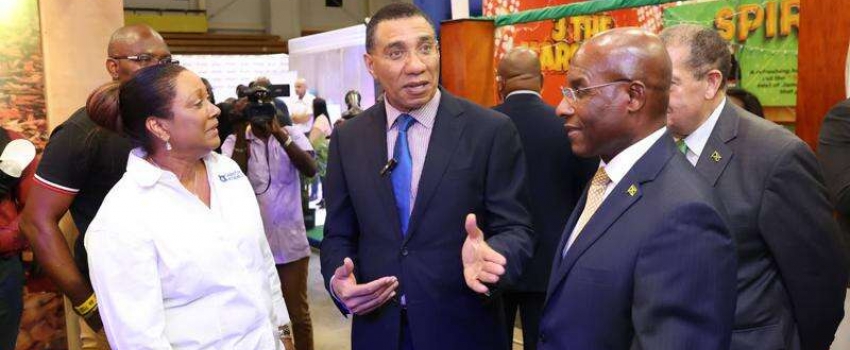 Prime Minister Andrew Holness (centre) and Senator Aubyn Hill, minister of industry, investment and commerce, share in a conversation with Caribbean Flavours and Fragrances General Manager Janice Lee on the opening day of Expo Jamaica 2023 on Thursday, April 28, 2023.
PRESIDENT of the Jamaica Manufacturers and Exporters Association (JMEA), John Mahfood and Aswad Morgan, chairman of the organising committee of Expo Jamaica 2023, on Thursday evening both welcomed the Government of Jamaica's (GOJ)sponsorship of the "largest trading show in the English-speaking Caribbean" through the Ministry of Industry, Investment and Commerce (MIIC).
Expo Jamaica, which will close today, was officially declared open last Thursday, April 27, by Prime Minister Andrew Holness — who was the keynote speaker — at the National Indoor Sports Centre. The venue has been used, along with the National Arena, over the last four days to house some 230 exhibitors occupying 348 booths.
Through Jamaica Promotions Corporation (Jampro), the export promotion and investment marketing agency of Government, the team at MIIC has worked with its counterpart at the JMEA in the planning and execution of Expo Jamaica 2023 over the last six months.
"This a true partnership between Government and private sector. This type of collaboration is a recipe for success," Mahfood stated during the opening ceremony.
"In fact, our title sponsor is the Ministry of Industry, Investment and Commerce, which shows the Government's commitment to our sector. I want to congratulate Minister [Aubyn] Hill on his leadership and commitment to our sector, as well as his efforts at leading various overseas delegations [on trade missions]," he added.
The JMEA president also highlighted that Expo Jamaica was being held for the first time since 2018, and pointed out that in that regard, "this event is like a sign of a new beginning or rebirth of the productive sector". Moreover, he said the event should facilitate a number of opportunities for manufacturing, export and linkages between industries.
Approximately 600 buyers from Jamaica's traditional trading partners — Canada, the United Kingdom and United States — Caricom member countries, as well as Sweden, Oman and Ghana have been attending the trade show.
"This year we have many more countries represented. This event would not be possible without the strong commitment of our partners and major sponsors. This shows their support, not just to the JMEA but also to the country," Mahfood shared.
In the same vein, while welcoming the Government of Jamaica's support in the staging of the event, Morgan underscored the implications for Brand Jamaica.
"For this first time we have the Government of Jamaica as a title sponsor of Expo Jamaica. This trade show was carefully designed to highlight Brand Jamaica and create business opportunities. GOJ is pertinent to furthering this mission, and having them on board signals commitment and support," he said.
Taking his cue from the JMEA president, Morgan thanked both Prime Minister Holness and Senator Hill for playing a "vital role in Expo Jamaica 2023…and accepting the task of title sponsor" for the event, which highlights "the value of partnerships".
Sharing his vision to see Jamaican products and services penetrate international markets, thereby increasing exports, Morgan urged businesses to take advantage of the opportunities presented by the trade show and to contribute in building an environment for growth.
https://www.jamaicaobserver.com/business/this-a-true-partnership/
Source: Jamaica Observer