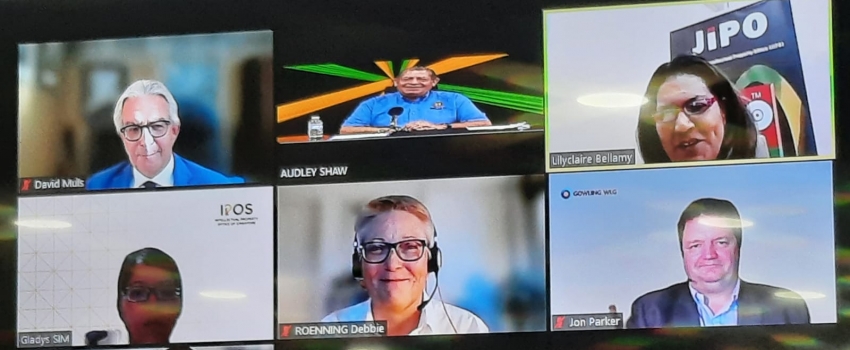 Virtual Madrid Protocol Webinar.
Minister of Industry, Investment and Commerce, Hon. Audley Shaw, Hon. Audley Shaw, at the virtual Stakeholders Webinar on the Madrid Protocol, hosted by the Jamaica Intellectual Property Office (JIPO) in collaboration with the World Intellectual Property Organization (WIPO), at the Ministry of Agriculture and Fisheries, Hope Gardens, Kingston on Thursday, September 30, 2021.
Other presenters joining virtually are Executive Director, JIPO, Lilyclaire Bellamy; Senior Director, Madrid Registry, Brands and Designs Sector, WIPO, Geneva, Switzerland, Mr. David Muls; Director, Madrid Legal Division, Madrid Registry, Brands and Designs Sector, WIPO, Debbie Roenning; Trade Mark Examiner, Intellectual Property Office of Singapore (IPOS), Singapore, Ms. Gladys Sim; Divisional Deputy Director for Administrative Processing of Trademarks, Divisional Trademarks Division, Mexican Institute of Industrial Property (IMPI), Mexico City, Pedro Damián Alarcón Romero; Partner, Gowling WLG, United Arab Emirates, Jon Parker; Trademarks, Designs and Geographical Indications Manager, JIPO, Adrienne Thompson.
The Jamaican Trade Marks Act was amended this year to incorporate the provisions under the Madrid Protocols and are now in the final stages of preparation of the documents of accession, which will allow all owners of existing or potential owners of trademarks to have the opportunity to now protect their trademarks internationally using the Madrid Protocol.
Under the Madrid System, an application for international registration must be presented to the International Bureau through the Office of origin, JIPO.