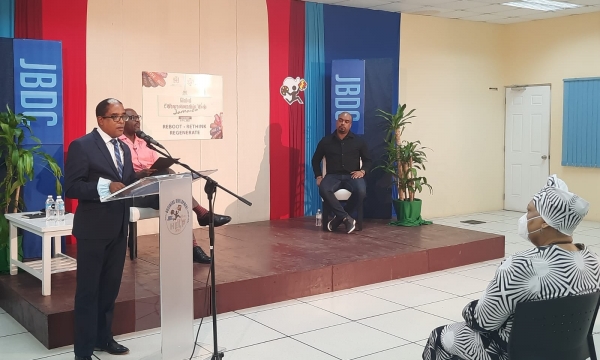 Minister of State in the Ministry of Industry, Investment and Commerce, Hon. Dr. Norman Dunn, addresses the Jamaica Business Development Corporation's (JBDC) Global Entrepreneurship Week (GEW): Business Dialogue Forum, at the JBDC's Incubator offices, Marcus Garvey Drive, Kingston, on Monday, November 8, 2021. GEW is being celebrated from November 8 – 14, under the theme "Reboot, Rethink Regenerate". The aim of GEW is to inspire people everywhere through local, national and global activities designed to help them explore their potential as self-starters and innovators. Chief Executive Officer, JBDC, Valerie Veira; Deputy CEO, JBDC, Harold Davis; and Chief Visionary & CEO, Mobile Edge Solutions, Leighton Campbell, also gave remarks.
JBDC is driving this global movement in an effort to highlight emerging and creative industries, facilitate business to business discussions and encourage business start-ups on a national level.
Minister of State in the Ministry of Industry, Investment and Commerce, the Hon. Dr. Norman Dunn, is urging entrepreneurs to take advantage of economic growth trends occasioned by the pandemic to drive their businesses. Addressing micro and small business enterprise (MSMS) owners on Monday, November 8 at a Business Dialogue Forum on the theme "Rebooting for Business in a Post-Pandemic Era", the Minister encouraged the gathering to diversify into industries that are emerging as growth leaders. "Global disruptions have led to economic growth in many markets, such as manufacturing; logistics and...
Read more