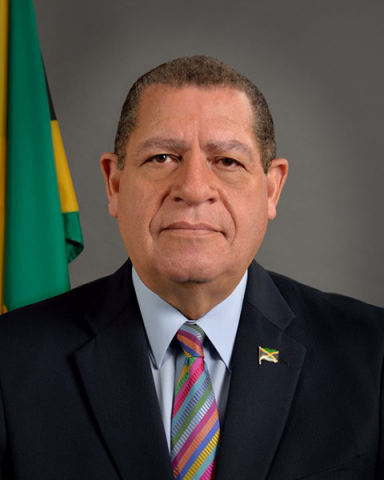 The Honourable Audley Shaw, CD, MP was born in Christiana, Manchester on June 13, 1952.
He attended the Christiana Leased Junior School, Knox College and Holmwood Technical High School in North East Manchester. He first worked with the Jamaica Milk Products as a Laboratory Technician. He then worked with the Jamaica Movement for the Advancement of Literacy (JAMAL Movement) as Area Literacy Officer for North East Manchester and as Zone Officer for St. Andrew.
In 1981, Mr. Shaw graduated from Northern Illinois University (NIU) with the Bachelor of Arts and Master of Arts Degrees in Journalism with graduate studies in Marketing, Finance and Public Relations.
He joined the Chicago Office of Burson-Marseller (a Public Relations Consultancy firm) in 1981 as Client Executive, and would later put that experience to work when he joined the Jamaica National Investment Promotion Limited (JNIP) later named JAMPRO and now renamed Jamaica Trade and Invest, as Director for Public Relations and Advertising. Between 1983 and 1986, Mr. Shaw was responsible for JNIP's Marketing and Overseas Offices.
In 1986 he resigned his position with Government and became a Merchant and Marketing Consultant. He joined the Jamaica Labour Party in 1987. He has served in the senate and several shadow portfolios. He has been the Member of Parliament for North East Manchester since 1993 and previously served as Minister of Finance and the Public Service from 2007-2011.
Mr. Shaw has served as General Secretary of the Jamaica Labour Party and has been a Deputy Leader in the Party, since 1999. He was appointed Chairman of the Public Accounts Committee (PAC) of Parliament in 1995.
In October 2013 Mr. Shaw was awarded the Order of Distinction in the rank of Commander for his 20 years of dedicated and honorary service to the House of Parliament. Having previously served as Minister of Finance and the Public Service and Minister of Industry, Commerce, Agriculture and Fisheries, he is now appointed Minister of Industry, Investment and Commerce.