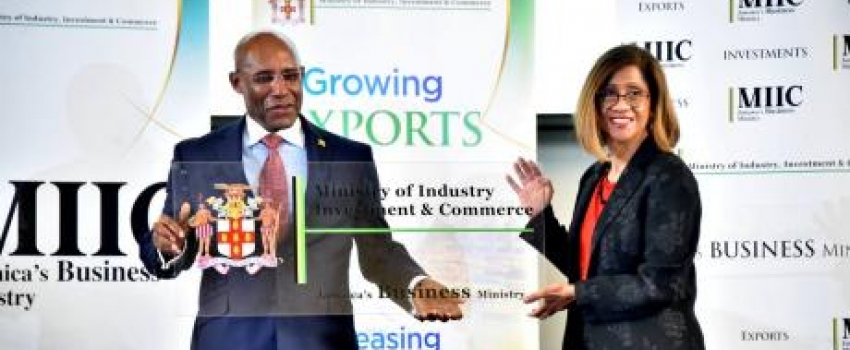 Permanent Secretary Sancia Bennett Templer (right) and Minister of Industry, Investment and Commerce Aubyn Hill display a strip showing the Jamaica's Business Ministry rebrand at a certification ceremony at the AC Hotel Thursday.
The Ministry of Industry, Investment and Commerce has been rebranded Jamaica's Business Ministry.
The rebranding was announced by Senator Aubyn Hill, minister of industry, investment and commerce, on Wednesday evening during a Rebranding and Quality Recognition ceremony held at the AC Hotel.
Hill said one objective of the rebranding effort is to grow Jamaica exports, starting with more targeting Guyana.
Another objective is to woo prospective business investors to seek assistance and intervention from the ministry or its agencies.
"The biggest part of the $815.3 billion that Minister (Nigel) Clarke mentioned in the supplementary Budget in November last year, the biggest part comes from businesses," he said to applause.
"So if businesses and their employees are the largest providers of money that the Government spends, and if businesses are also the entities that can grow us and pay the largest salaries in the economy up to now, you will understand why the Ministry of Industry, Investment and Commerce must be rebranded to take a laser-sharp focus on helping, encouraging, facilitating our businesses to excel, to be profitable."
Hill said that on January 23, approximately 60 persons associated with 45 businesses in Jamaica will visit Guyana to explore export opportunities there.
"We have to go look for the markets ... . Guyana has just found 16 billion barrels of oils declared ... and they're finding more today. ... They know we respect them, and they're asking that we come back, and we're certainly bringing 60 at this time," the minister said.
Source: Jamaica Gleaner