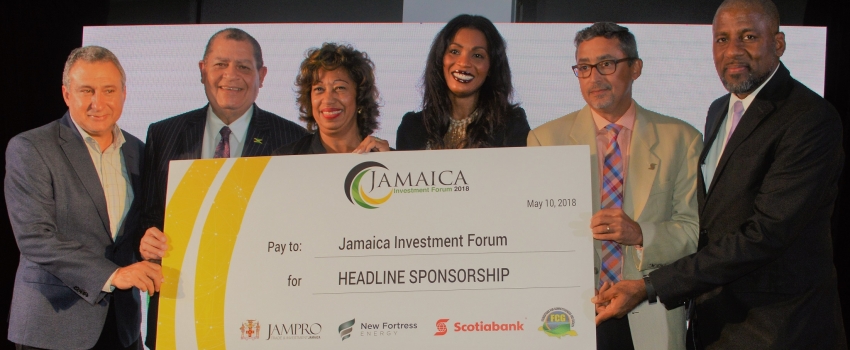 Industry, Commerce, Agriculture and Fisheries Minister, Hon. Audley Shaw, says Jamaica is set to reap success from the third staging of the Jamaica Investment Forum (JIF).
He said that this is as a result of the significant strides being made to ensure that the country is more business friendly for investors.
"We have laid the groundwork for an improved business friendly environment, characterized largely by ease and speed. This we have achieved through the focused work of the National Competitiveness Council (NCC), its partners, supporting agencies and ministries. Our overall goal is to create an atmosphere that is inviting for business, easy to navigate and offers the kind of flexibility needed for the development and execution of various sector-related investment projects," the Minister pointed out.
The Minister was speaking at the media launch of JIF 2018, held on May 10, 2018 at J. Wray & Nephew Limited, in New Kingston.
The Forum which is slated to be held from June 12 to 14 at the Montego Bay Convention Centre will promote six priority sectors for investment and host 200 international investors.
According to Minister Shaw, our global village may be getting smaller, but it is also getting bigger on opportunities for productive investment and business development. This, he said, puts Jamaica at the pinnacle of investment conversations in the Caribbean, and this Forum provides the perfect platform to further those conversations.
"Jamaica is now fast becoming the regional poster child of fiscal and economic prudence and, coupled with the dynamic investment prospects, we are perfectly positioned for a strong period of growth and development. No shrewd investor should want to miss out on the action", Minister Shaw added.
In the meantime, JAMPRO's President Diane Edwards noted that the agency intends to work even harder to attract greater investments into the Jamaican economy, which have a broader reach and therefore a more fulsome impact with JIF being a major strategy to achieving this.
"For this staging of JIF, we want to continue to generate investment projects that can impact a broad sector of society. To do this, we will illuminate Jamaica's economic path for investors and give them a new perspective on the country's business opportunities", Ms. Edwards said.
Under the theme "Connect for Business", JIF 2018 will be one of Jamaica's key platforms to connect new investors to Jamaican projects and cement decisions on investors who have already indicated preliminary investment interest in the country. Investment opportunities in outsourcing, manufacturing, agri-business, tourism, logistics and energy will be presented at the conference.
=30=